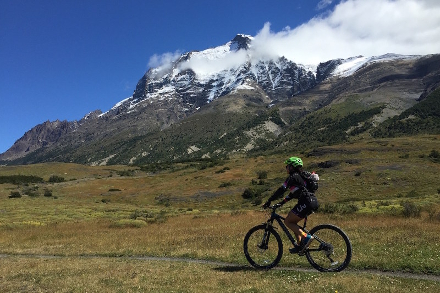 We are pleased to announce that Hotel Las Torres is expanding their range of activities for the upcoming 2018/2019 summer season in Torres del Paine National Park. 
The inclusion of these new excursions, including mountain biking and rock climbing, means that Reserva Cerro Paine will now offer the largest variety of activities in the region! While Hotel Las Torres has always been popular with Australians due to its fantastic location within the park and authentic Patagonian character, future guests will now have the added luxury of even more opportunities to explore the park. 
Mountain biking
The new mountain biking option allows guests to explore Reserva Cerro Paine via two different routes. The first is ideal for those less experienced in mountain biking as it is mainly flat. It passes through Lake Nordensjold and a valley with impressive views towards the lake Monte Almirante Neito. The second route is more difficult with steep climbs and descents. However, guests will be rewarded with multiple lagoons, river crossings and a variety of birdlife along the way. Visitors who prefer a DIY approach can opt for the hotel's self-guided trails.
Rock climbing
Situated close to Hotel Las Torres is Puma Cave, a large rock formation ideal for climbing. The wall has three levels of difficulty: basic (beginners), medium and expert. Commencing with a thorough instruction, this activity lasts for 2-3 hours. Guests will have the opportunity to climb different routes and enjoy the unique experience of reaching the highest point.
Multi-activity
The multi-activity excursion combines both mountain biking and rock climbing for an exhilarating experience. Torres del Paine National Park is famous for trekking and horse riding, but this combination offers a new perspective on the park.
"The motivation for introducing these new activities was to improve the guest experience by offering differentiated services. Visitors looking for different types of outdoor adventures, beyond the classic trekking and horseback options, will now find everything they are looking for at Hotel Las Torres. We are very proud to announce that the Reserva Cerro Paine group now offers the largest variety of activities in the region."
– Pablo Araya, Commercial Director at Hotel Las Torres. 
Guests will still be able to enjoy the hotel's full suite of traditional activities, designed to uncover the impressive landscapes of the park through trekking, horseback riding, lake navigations and vehicle transfers. 
Check out their latest detailed Excursions 2018/2019 PDF for further information.